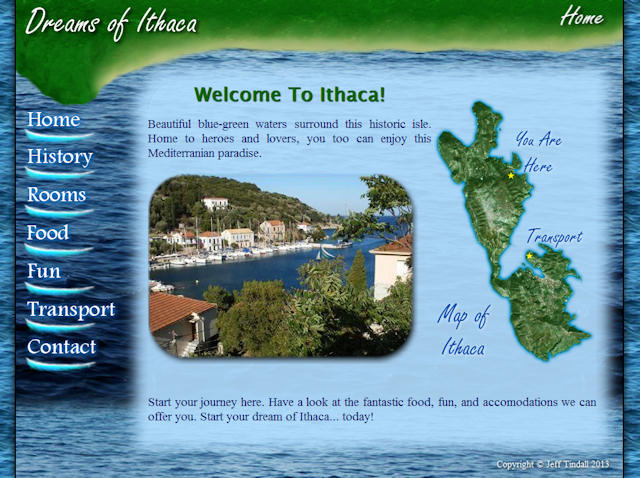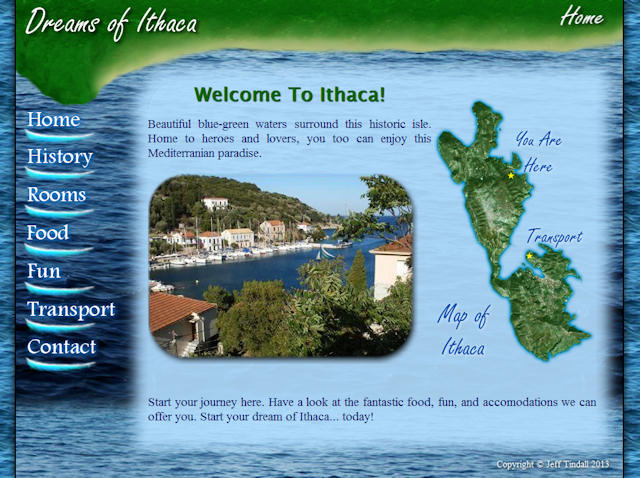 Dreams of Ithaca
The prompt for this project was to develop a website for a fictional bed and breakfast on a Greek island; in this case, Ithaca. A project for a class on web imaging, there were a number of specific elements that were originally required, including a simple Flash animation and an image map. For my design, I focused heavily on the notion of the water and the coast, and the almost unreal colors of the area. I created an abstracted coastline as my primary motif, and overlayed it over seamless water textures.
The photography used was taken from various locations on the internet, and thus are not fully my original work, though photo editing was part of the assignment. Notably, a collage of some very appealing food was put together.
Later, the design was revised slightly to reflect new techniques new technologies learned since it was built. I was particularly eager to replace the Flash animation with something that works in the less Flash-friendly mobile world. I utilized Google's Swiffy tool to create an HTML5 version, eliminating the need for a Flash plugin.